The Center for Socio-Cultural Programs

«

People IN» won a grant in the second competition of the Presidential Foundation for Cultural Initiatives in 2023 with the project

«

Concert in the Dark. Inclusion».
«Concert in the dark. Inclusion» is an inclusive musical and educational project. Its goal is to popularize the best examples of world musical culture, to enget acquainted with world and domestic literary and musical traditions using new forms of performance and demonstration, as well as the development of inclusive forms of creative activity in the creative industry, humanization of society and understanding of the social model of disability.
The copyright holder of «Concert in the Dark» is the State Budgetary Institution of Culture of the city N. A. Ostrovski State Museum- Cultural Center «Integration». Implementation of the project «Concert in the dark. Inclusion» is secured by a license agreement for the right to use the results of intellectual activity of the copyright holder.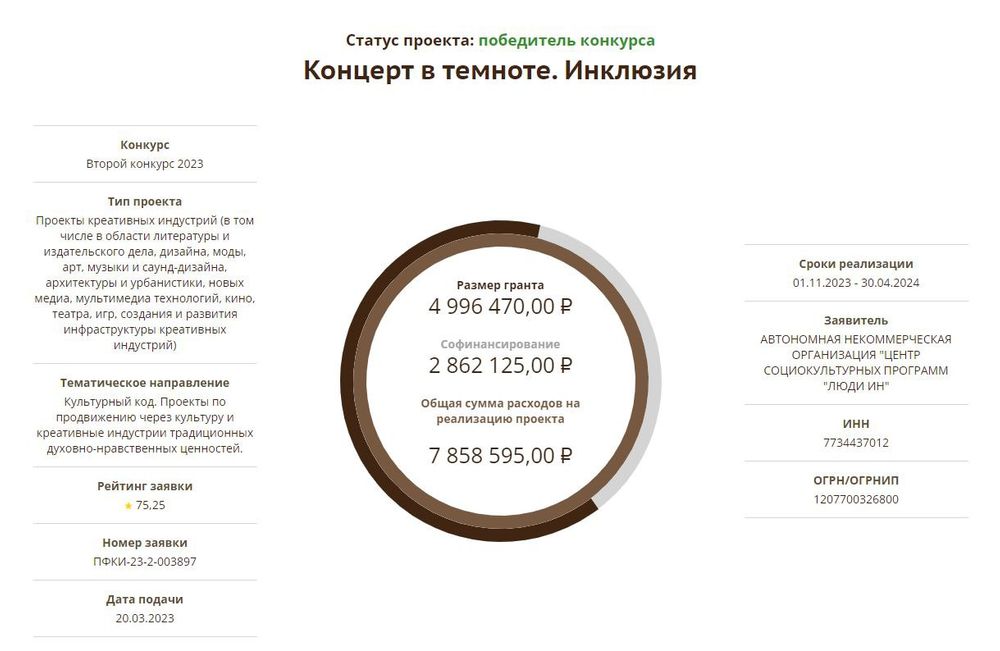 The events will be held in different Russian cities -you can see inclusive «Concerts in the dark» and take part in them in 3 places — Moscow, Saint-Petersburg and Tula.
The project is implemented by blind specialists in absolute darkness, which does not exist in nature. Within this project, people with disabilities can find themselves in different roles: guide, spectator, volunteer or performer. This is one of the main inclusive socially oriented missions of the project.
Nevertheless, there are no restrictions in the musical direction, format and composition of performers in the project. The only condition for both the speakers and the audience is darkness. The main criterion for selecting performers is professionalism, not the absence or presence of certain forms of disability. Therefore, both people with and without disabilities can become them.
With the help of this project, we want to create an inclusive environment through musical art that unites different people, promotes the disclosure of creative potential and professional realization of people with disabilities and the preservation of world and domestic literary and musical traditions in modern society.